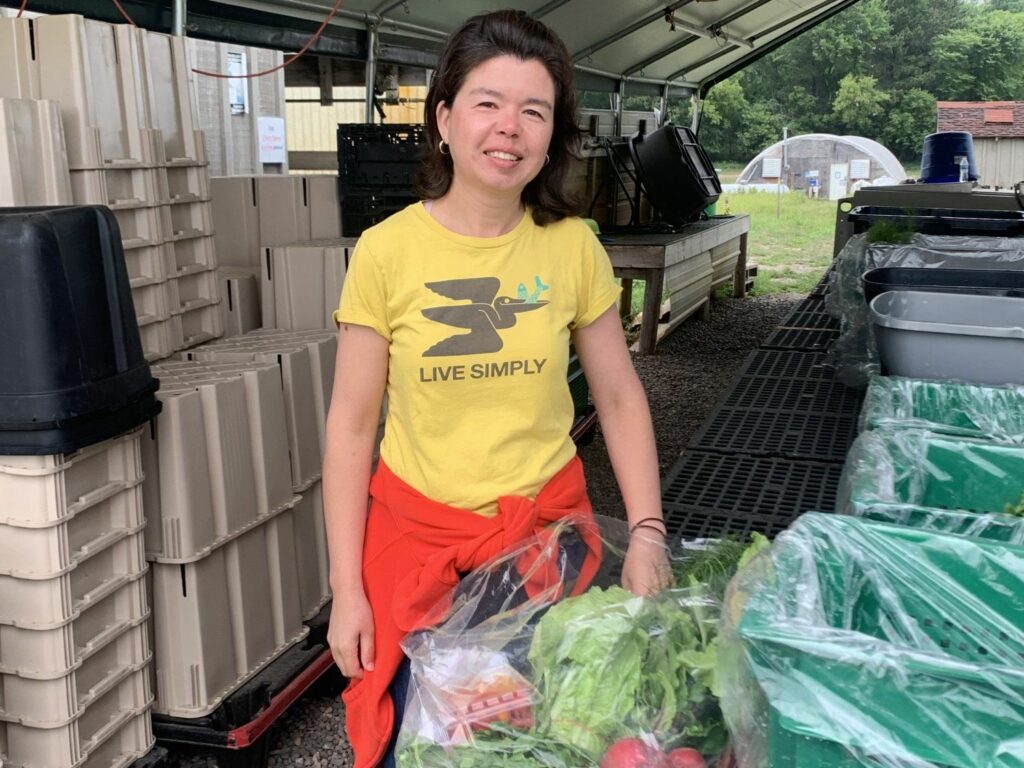 Did you know we have a dedicated team of seven volunteers that help pack your weekly CSA shares? They're an integral part of what makes our CSA so successful, ensuring members like you receive fresh, beautiful veggie shares throughout our 18-week season. Every Wednesday morning, this committed crew joins us bright and early to pack 225 CSA boxes full of freshly harvested produce grown by our hard working farmers. We couldn't do this work without them!
Meet Koshiki Smith, one of this year's returning CSA volunteers, and learn why it's meaningful to her.
How did you first learn about The Food Group? How long have you been volunteering at Big River Farms?
This is my second year volunteering at Big River Farms. Before the pandemic, I volunteered at Frogtown Farm, an organic community farm in St. Paul. Unfortunately, they paused their volunteer program last year due to the pandemic. So, I searched for another organization with a similar philosophy where I could volunteer outside and landed a position at Big River Farms.
What's your favorite part about volunteering at Big River Farms?
I enjoy the early morning drive to the farm. Each week I see a beautiful sunrise (I leave my house at 5:30am!) and wild animals. I also enjoy the peace and tranquility of being at the farm with other volunteers who believe in supporting their communities. And most of all, I love receiving fresh organic produce from the farm each week!
How would you sum up your volunteer experience in one word?
Therapeutic
Why is supporting your community with nutritious, culturally connected foods important to you?
My husband and I ran a chef-owned restaurant in St. Paul for almost two decades with a mission of serving food to the community that was affordable and scratch-made with clean, locally-sourced ingredients. We worked with local farmers, butchers, and other suppliers to help create a more vibrant, nurturing, self-sufficient community.
After the restaurant, I've continued to work with a local food hub, local food co-ops, and nonprofit organizations to help educate and promote the local food movement, which is an essential part of who I am.
What's the most unexpected or unique item you've seen during weekly CSA packing?
Dried beans.
What do you do when you're not volunteering?
I do a couple of things – I am a travel advisor and a Japanese travel specialist for a company I co-founded named Tanpopo Journeys. I take people on interest-group journeys to Japan (including culinary trips!). Our mission is to work with artists, farmers, craftspeople, and small businesses to foster and help them preserve traditional Japanese crafts and food production methods while sharing them with interested travelers.
When I am not travel advising, I teach cooking classes, work on my food blog, The Japanese Kitchen, and write contributing articles for Taste of Home.
I am also a mother to two boys, age 11 and 15, and a wife, so I spend a lot of time hanging out with my family.