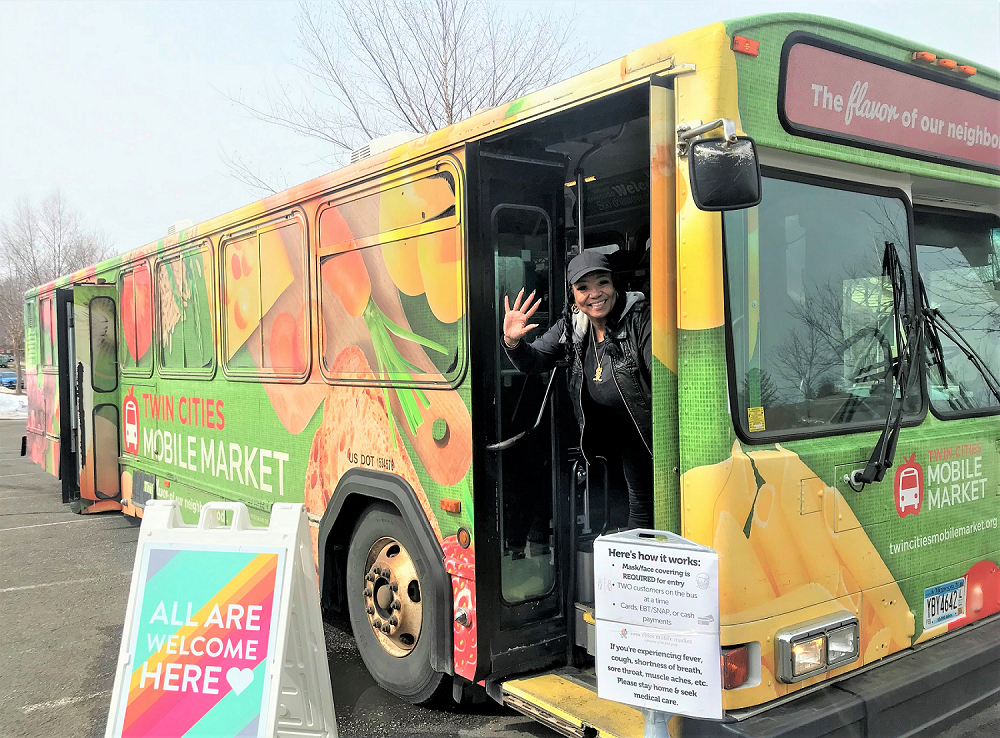 Twin Cities Mobile Market is a grocery store on a bus! The Mobile Market brings affordable, nutritious foods right to your neighborhood. Anyone can shop for a full selection of fresh fruits, vegetables, meat, dairy, grains and other high-quality groceries.
The bus visits neighborhoods that don't have access to full-service supermarkets, grocery stores, or food shelves. Each year we serve nearly 10,000 customers at more than 25 sites around St. Paul and Minneapolis.
See when the bus is stopping near you. Shopping is easy, convenient, and open to everyone.
FAQ
What kinds of foods can I buy?

We offer a variety of fresh fruits and vegetables; dairy items such as milk, eggs, cheese, and yogurt; several varieties of lean meats; and basic dry goods including whole grains, rice, beans, and seasonings. During the growing season, we have fresh produce from local farmers.

If you don't see an item you want, let us know! We'll do our best to get it for you.
Where does the food come from?

We source the same high-quality products that you find at a local grocery store. During the growing season, we buy from local farmers. As part of The Food Group, we have access to certified organic produce from Big River Farms, too.
How do I pay?

We accept credit/debit cards, SNAP/EBT, cash, and Market Bucks. When you buy fresh fruits and vegetables with SNAP/EBT, you receive up to $10 in Market Bucks to buy more fresh produce. At this time, we cannot accept WIC or checks.
What about COVID safety?

Usually, you can hop on the bus and do your own shopping. When COVID risks are high, we ask shoppers to stay outside the bus. Here's how it works:

You wear a mask and stay at a distance while you're outside the bus.
We give you an inventory list, and you check off what you want.
One of our staff members fills your order and takes your payment.

The health and safety of our shoppers, our volunteers, and our team members are always a top priority. Thank you for understanding.
When will the Mobile Market come to my neighborhood?

The Mobile Market stops in Saint Paul, Minneapolis and other locations in the Twin Cities from Tuesday to Friday every week. Check our schedule often for up-to-date information. We change times and locations to meet customers' needs.
Are you open during bad weather?

Twin Cities Mobile Market makes every attempt to remain open during severe weather, but we close when area schools are closed or if we think it's not safe for our staff, volunteers and customers. The schedule is subject to change at the last minute, so check our Facebook page for updates or call us at 763-450-3880.
What's the impact of the Mobile Market?

The Mobile Market definitely helps people eat better. In 2019, 84% of surveyed customers reported eating more fruits and vegetables, and 89% said they had greater access to healthy food. (Thanks to Melissa Horning at the University of Minnesota School of Nursing for these survey results.)