Meet farmers Choua and Xou at Big River Farms
Nancy Cook | Laura Hedeen | 2018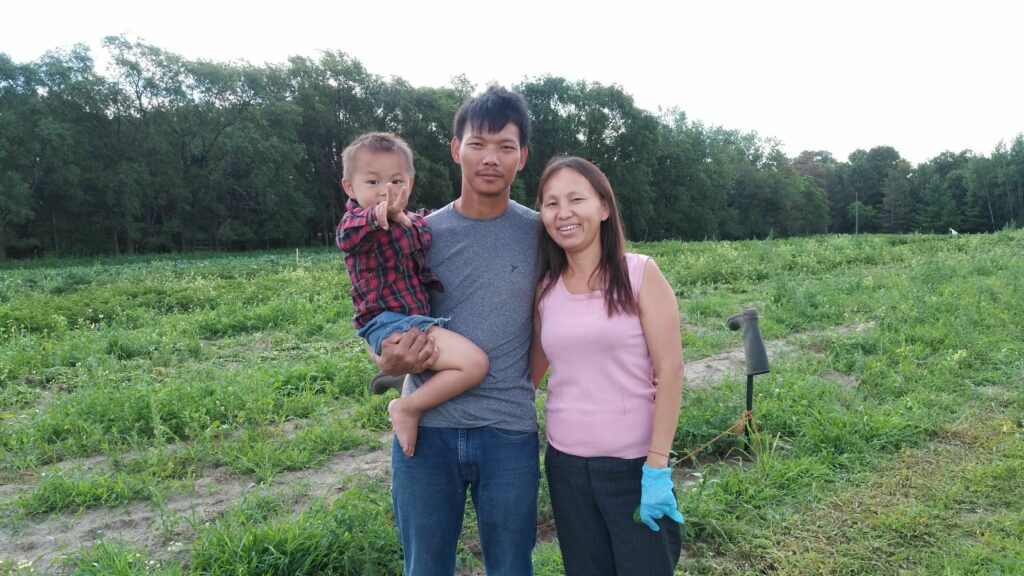 Choua, a teacher with the Hmong Charter School in St. Paul, looks forward to planting season every spring. She and her husband Xou discovered Big River Farms through the Hmong American Partnership (HAP) at a workshop they attended in 2016. Before connecting with us, Choua and Xou started their own farming business in 2014. With four little boys to support, they needed a way to supplement their income and save up for their children's education. Although the most experience Choua had with planting was in her mother's garden, Xou seemed to have a natural knack for farming.
In 2014, Choua and Xou found a 3-acre plot to rent in Marine on St. Croix with a group of Hmong farmers. After farming there for a year, they moved their start-up operation to Vermillion, south of the Twin Cities. Both locations had been conventionally farmed for many consecutive years resulting in poor soil health, so they continued to look for a better fit.
In 2016, they found a 6-acre plot of land to rent on a farm near Forest Lake. They immediately formed a great relationship with their landlord there, a retired farmer who became a mentor for Xou on basic tractor skills. Little by little, Choua and Xou discovered how to navigate their business partnership – Choua became responsible for all paperwork and communication and Xou managed field work and farm equipment. They also found farmers' markets in Brooklyn Park and Pine City to sell their produce as customer demand continued to grow. However, during this time they worried about the long-term impacts and side effects of working with chemical-based fertilizers. When they found out they could learn organic farming methods through Big River Farms, they jumped at the opportunity.
In 2018, the couple left their plot in Forest Lake to farm at Big River Farms in Marine on St. Croix. In their first year of our Farmer Education program, Choua attended classes to learn about the required record-keeping and farming practices needed to become certified organic. Xou viewed this transition as a way to have more access to mentors who knew the details of organic farming, while being able to put what they learned into practice.
Choua and Xou hope to continue scaling up their farming business, and with their own organic certification, open new market opportunities. Within the next few years, they hope to buy farmland with a house where they can raise their family and support themselves off their farming business. Look for their produce in your local CSA!