A variety of small, independent Community Supported Agriculture (CSA) businesses thrive at Big River Farms. Learn more about the farmers, the food they offer, and how you can join their CSA!
Jacob Daniel Farms
Jacob and his wife Joylyn are immigrant farmers from India who started farming at BRF's incubator program in 2017. They approach farming in a sustainable and environmentally-friendly manner that prioritizes the use of natural inputs and processes.
Jacob Daniel Farms offer an "All We Grow" CSA share that includes 8-10 produce items weekly over a 13-week period from July 2nd-Sept. 24th, 2023. Their main CSA pick-up location is at Seward Co-op's Friendship store in south MPLS.
Moshky Farm & Gardens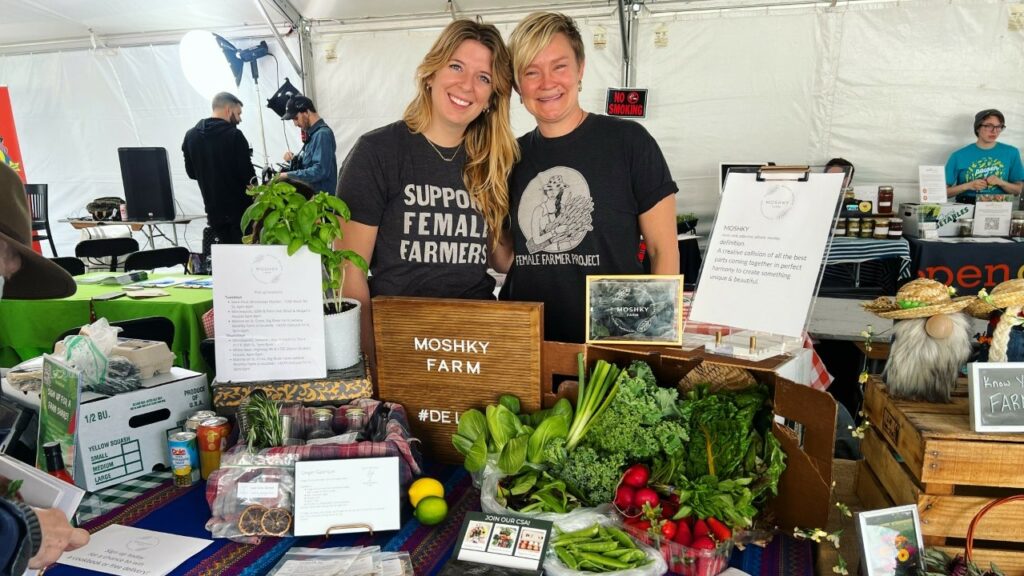 Farmers Marisa and Heather offer seasonal, fresh, organic produce delivered through CSA shares with a focus on South African crops. They grow unique varieties of organic greens, peppers, nuts, and more from Heather's home country of Zimbabwe.
Moshky Farm's veggie CSA shares consist of 8 boxes containing 10-15 produce items delivered bi-weekly over 16 weeks. They also offer cocktail shares once per month from June-October for a total of 5 boxes. Each cocktail share box contains 4 cocktail (or mocktail) bases, which make 2 cocktails each (8 drinks total). Each cocktail box includes everything you need except the booze and comes with drink recipes and mixology tips.
StrongHeart Farms
Farmers Pearce and Eleanor are cultivating a new narrative with their food! A narrative where your food is raised locally and in reciprocity with the lands' natural systems, where food is chemical and pesticide-free, and where community and farmers share in the bounty of the earth.
They offer small and large-size veggie shares delivered weekly over 16 weeks from June 20th-October 3rd, 2023. To reduce financial barriers, they also offer multiple payment plan options and financial assistance through a subsidized CSA program that can cover 25-75% of your CSA share cost if you receive government assistance through SNAP or WIC benefits.
Yawelyahsi·Yó Farm
Mallory and Lucas feel they need to have a good heart, a good mind, and a good spirit while farming. They need a good heart to be able to take care of all of the precious seeds that they have in their bundles. They need a good mind to take care of the land that they're on. And they need a good spirit to continue the work.
They grow over 100 different kinds of organic veggies, herbs, and flowers, including several Indigenous crops. They offer spring, summer, and fall CSA shares available in various sizes. You can help them bridge the gap between fresh, local, nutrient-dense food and people who have been excluded by the farm-to-table movement by buying one of their Farm to Food Bank shares.