"Food is my source of comfort, and if it's really good, it makes me glad to be alive." – community member
Centering community voice is a core value at The Food Group. This past fall, we decided to go deeper.
In September we began a community engagement process to strategically inform our food systems work. Mobile market shoppers, food shelf visitors, and farmers engaged with us through surveys, interviews, conversations, and focus groups, sharing ideas to build a more equitable food system together.
Our community shared that food access is connected with all basic needs and wellbeing. Many folks also shared insights around dignity and autonomy, food solutions as a collective effort, food as a tool for healing, and the need for housing and land access for long term food stability.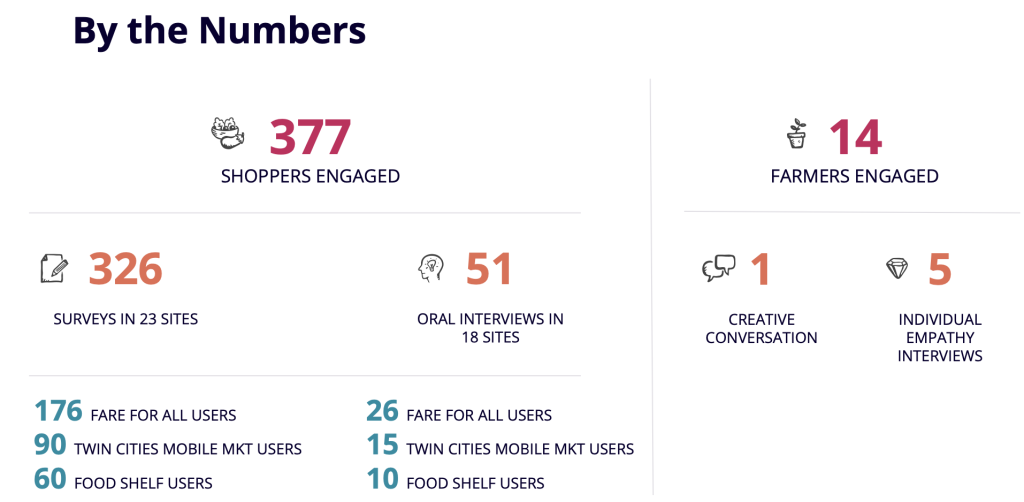 Community Informed Changes
We heard from our community what is important, and now The Food Group is leaning in to invest by:
Grounding our programs in autonomy and dignity
Strengthening partnerships with community-led housing and health groups
Developing a community advisory committee
Growing land access solutions for farmers
Creating continuous feedback loops in our programs
Exploring advocacy toward systemic change
As we work to fight hunger and nourish our community, we are profoundly grateful for community wisdom and support. We are energized to put community solutions into action together!