In addition to sourcing local products for our food shelf and hunger relief partners, The Food Group is excited to offer locally grown and raised products from 13 local growers and producers for purchase through our mobile grocery programs Fare For All and Twin Cities Mobile Market this summer!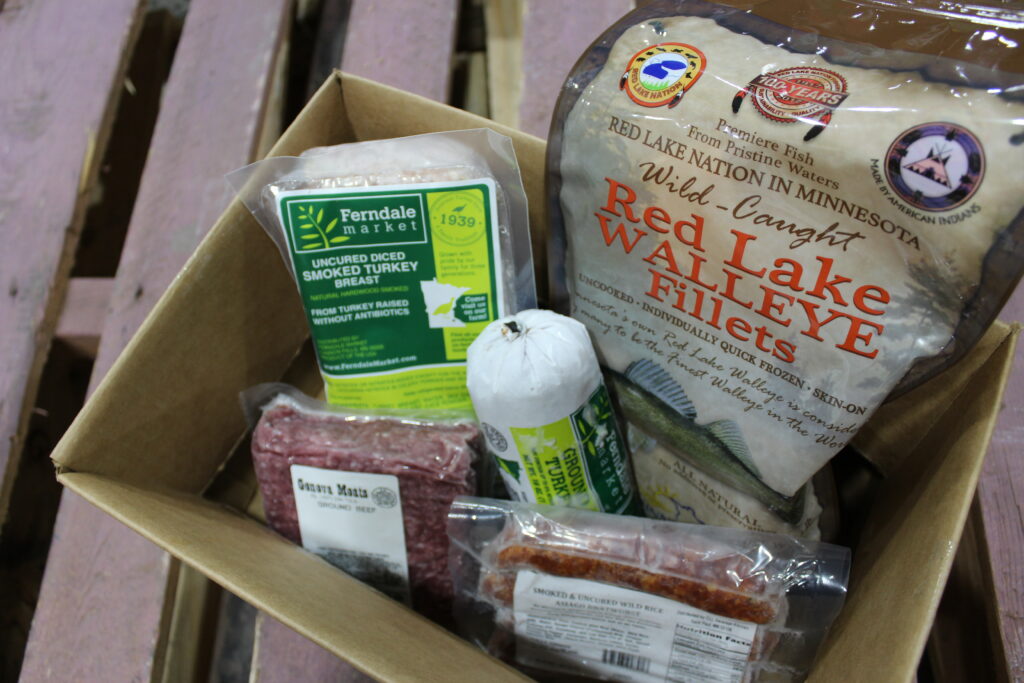 Minnesota Meat Packs & Organic Watermelon
Fare For All is The Food Group's cooperative purchasing program that offers affordable groceries and packages of produce and meat for up to 40% off retail prices.This August and September, we are excited to offer our FIRST-EVER Minnesota Meat Pack! The pack features Minnesota grown and raised fish, pork, poultry, and beef from four farms – all within a day's drive from their farm to your table. The Minnesota Meat Pack is available for $26 and can be purchased at any Fare For All location.
Fresh, organic watermelon from Featherstone Farm is also available for purchase at Fare For All sales.
What's in the Minnesota Meat Pack?
Local Produce from Rural and Urban Farms
This summer, Twin Cities Mobile Market will be offering a variety of local produce from farmers at Big River Farms and Appetite for Change. This market on a bus conveniently brings affordable and fresh fruits, vegetables, meat, dairy, grains and other high-quality groceries directly into 21 neighborhoods around Saint Paul and Minneapolis. To find out where the bus will be near you, click here.
Where can I shop Fare For All and Twin Cities Mobile Market?
Fare For All and Twin Cities Mobile Market is open to all! Fare For All's summer schedule is available here. You can find Twin Cities Mobile Market's schedule here.
Pack Local Produce for Local Communities
Want to get involved, but don't want to shop? Every week, we welcome volunteers in our warehouse to pack a variety of local produce into boxes. This produce is rescued, gleaned, and sourced from local farms, orchards, and markets and distributed to our network of food shelf and hunger relief partners. Learn more and sign up here.
Our network of Local Growers and Producers
You can find products from our partners at grocery stores and farmers markets throughout the Twin Cities. Thank you to our local partners who provide fresh produce and locally raised meat for The Food Group's mobile grocery programs and in distribution to our food shelf and meal program partners:
Big River Farms
Chong Moua
Dee Thao
Hoyo Sambusas
La Perla
Mhonpaj's Garden
Seeds Farm
The Early Birds Vegetable Farm
Twin Cities Green Farm
Ferndale Farm
New Geneva Meats
Big Steer Meats
Red Lake Nation Fisheries
Red Lake Nation Foods
Featherstone Farm
St Croix Valley Growers
Dawn 2 Dusk
SEEDS Farm
The Amazing Chickpea
Waxwing Farm
Picha Farms
Comfort Community Farm