Although most of the economy was shut down by the COVID-19 pandemic, some workers have never been busier. While they experienced feelings of haste, stress, and chaos, the rest of us were forced to slow down. Minnesota's essential workers risk their lives every day while we have the privilege to stay home to protect ourselves and our families.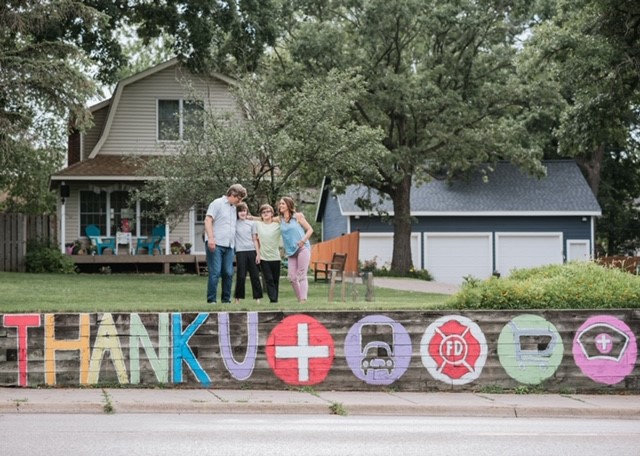 Who are Essential workers?
Essential workers include employees from a range of sectors- healthcare, law enforcement, food and agriculture, transportation, and public works to name a few. We see them stocking the shelves at grocery stores, driving buses, cleaning hospitals, delivering mail, and taking care of us when we get sick.
Getting Creative
How do we show our appreciation for essential workers when we can't give a hug or handshake? When we can't gather? Or shop for a gift? We could still enjoy the outdoors. Mom and son team, Heather and Alex, got creative with a large wall in their front yard. Their project gained popularity quickly, and others wanted to share the message.
Thinking Bigger
"After so many people started stopping, honking, waving and thanking us, my son and I decided to sell yard signs, with the idea of donating $10 from each sign sold to nonprofits and charities helping to feed children and families facing food insecurity. We sold 400 out of my trunk. Then at the recommendation of a neighbor I had never met, set up a website and got in touch with a printer able to help us print and ship, with four storefront locations for pick up in the Minneapolis metro area," explained Heather Lane.
Inspired to Give
Heather decided to give back to local hunger-relief efforts after reading "The Real Miami" by Udonis Haslem of the Miami Heat. She described, "I'll never look at a box of raisins the same. After reading that article, just a couple of days later we put up the chalk art. And shortly after that, between his words, and a local push to raise $70K for the Edina Meal Fund, which was going to support hungry families in my school district, we decided why not help raise money for hungry families, and share profits from our signs."
So far, Heather and Alex have sold over 3,700 signs in 35 states and DC, raising over $40,000 for charity. The Food Group is grateful to be one of the organizations Heather and Alex support.
Show Your Support
Visit their website to purchase your own Thank U sign; https://thethankustore.com/
At checkout, enter FOODGROUP as the Discount Code and Heather will send $10 from each sign purchased to The Food Group. Every donation ensures we can continue our emergency response of getting food to communities where it's needed most.
Watch Heather's Story