Volunteers are the heroes of The Food Group. Providing nutritious, culturally connected foods to our communities is possible because of the generous donation of their time.
After we established COVID-19 safety standards in our warehouse, our volunteers were welcomed back to prepare and distribute free and low-cost foods. During the months of March and April, they packed over 20,000 pounds of food for our mobile market and packaged meat and fresh produce distributed to over 1,100 households through our Fare for All program.
Meet James, always wearing a smile (even with the mask), he is a familiar face around the warehouse and has recruited friends and family to volunteer too. Read on to learn more about his connection to The Food Group.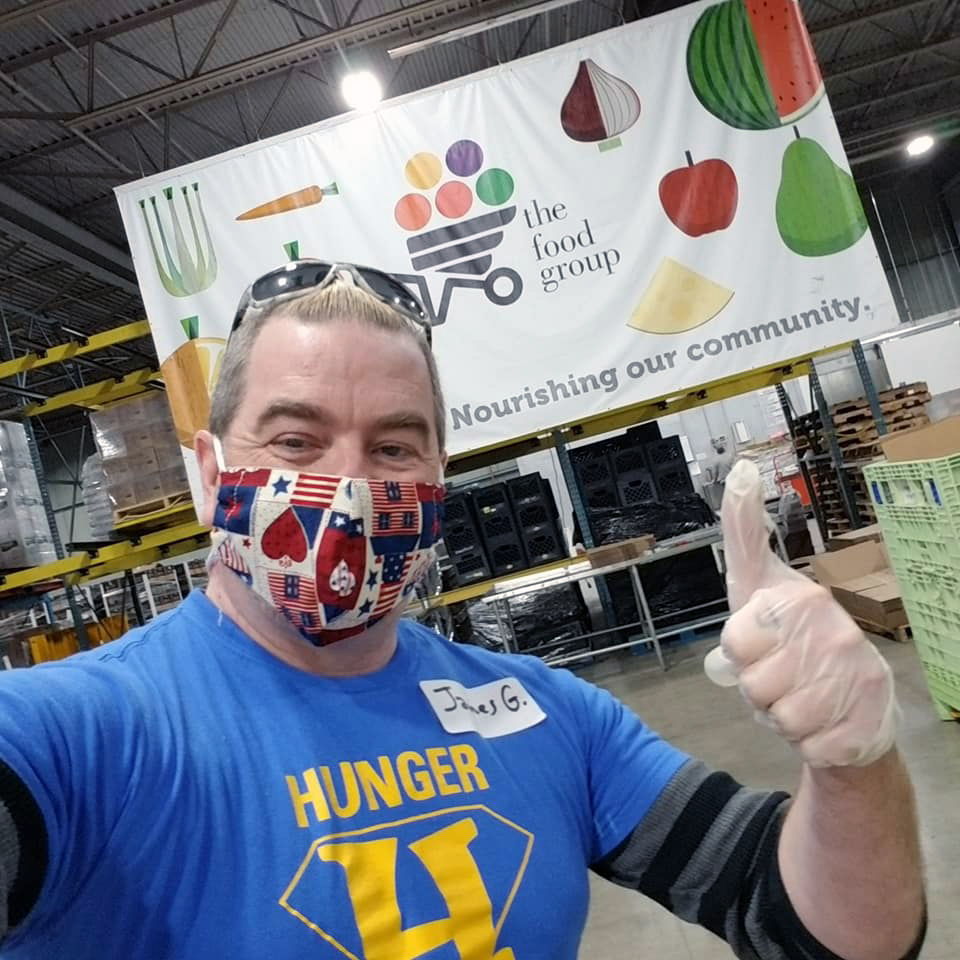 How did you first learn about The Food Group?
My initial contact with TFG was at the Food Justice Summit in 2012, where I worked with them and other hunger relief organizations to plan and execute an annual conference. I worked my first Hunger Bash fundraiser for the Food Group in 2016 and have worked every Hunger Bash since. It was actually the Food Justice Summit where I met Sophia Lenarz-Coy who is now Executive Director of the Food Group!
What makes volunteering meaningful to you?
I am all about giving back and paying it forward. I have worked with countless non-profits over the years and I know that next to monetary donations, donations of time are just as valuable, especially during a crisis like this pandemic. Not only is it about helping others, but it also brings to light issues of hunger that not all are aware of. It definitely puts life in perspective.
What's your favorite part about volunteering?
Ooh, do I have to narrow it down? I love to meet new people, so working with other volunteers is a bonus. I even try to bring in friends and family when I can. And I really enjoy working with the staff onsite. They are always friendly and knowledgeable and clearly enjoy what they do!
How would you sum up your experience in 1 word?
Important
Why is supporting your community with nutritious, culturally connected foods important to you?
We live in a world where fast food is readily available and affordable and for the most part, not really healthy for you. And we live in a society that is very culturally diverse. It's good to know that TFG is out there addressing both of these areas of concern in our community and others.
What's the most unexpected item you've seen that you packed?
Sardines!
What do you do when you're not volunteering?
I am an event planner with Stagetime Productions, whose primary focus is assisting and working with nonprofits in Minnesota and the surrounding areas. We coordinate fundraisers, conferences, outdoor events and more! And when I'm not working – I enjoy time with family and friends, working on my home and garden, and singing with One Voice Mixed Chorus and traveling!
To find out more about current volunteer opportunities and other ways to help, visit our volunteer page.