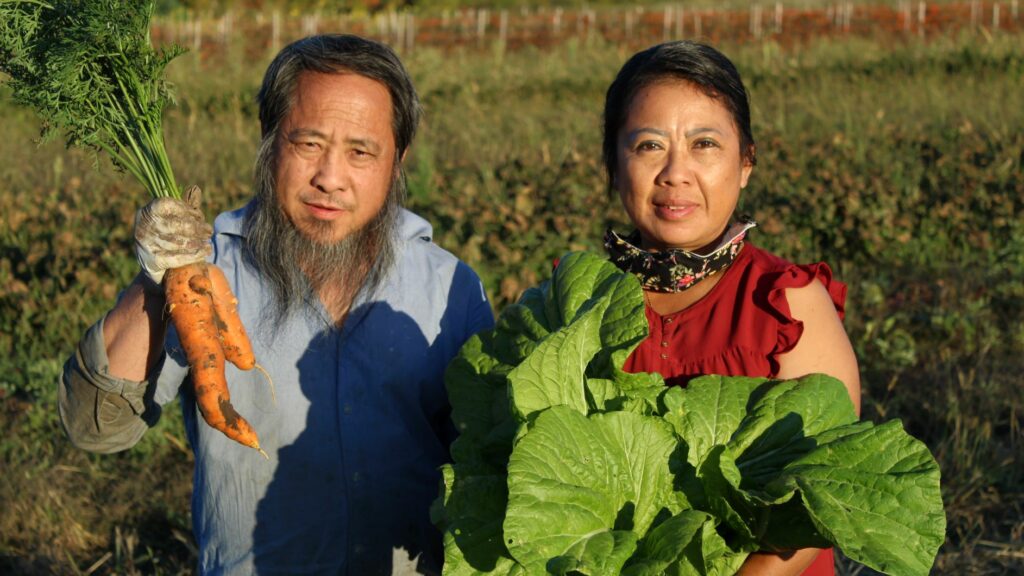 Farmers Lue Lor & Kia Chang grow many of the fresh, organic veggies you'll find in your weekly CSA shares. A few years ago, Lue was introduced to the Big River Farms (BRF) education program through friends. Lue and Kia started farming here as "The Early Birds" on a quarter-acre, but quickly felt the desire to expand. They currently grow on five acres here.
Every day, in pursuit of their dreams, they are "up before the sun," says their son Houa, hence their farm name. You have to "beat the heat if you love farming the land," says Lue. A man with "a passion for the outdoors, the sun and the wind," Lue has found his work at BRF to be very satisfying. They plan to eventually acquire their own farmland, which will enable them to give back and contribute to community health while feeding their own family.
Lue has passed wisdom onto his children acquired during his life's journey. Houa, his second born, says that chief among the values he's taken from his father are patience and diligence. Farming "takes a lot of work," says Houa. The work is often invisible, and many consumers underestimate the intense amount of labor involved.
For his part, Lue thinks it is unfortunate that so many people gravitate toward conventional produce that looks beautiful but lacks taste and nutritional value. If they could only do a taste comparison, Lue believes, they'd make different choices. He also wishes people could see crops growing firsthand to get exposure little-by-little over time. As Lue and Kia note, most consumers don't realize that planting begins in January, or that farmers often work nights and weekends in addition to second or third jobs to make ends meet. Lue adds: "Farmers survive heat, darkness, and rain," and they do it with "love, passion, and care."
"Farmers survive heat, darkness, and rain," and they do it with "love, passion, and care."

Lue Lor, Early Birds Farm