Twin Cities Mobile Market is on the road again – providing neighbors with fresh, healthy, and affordable grocery options!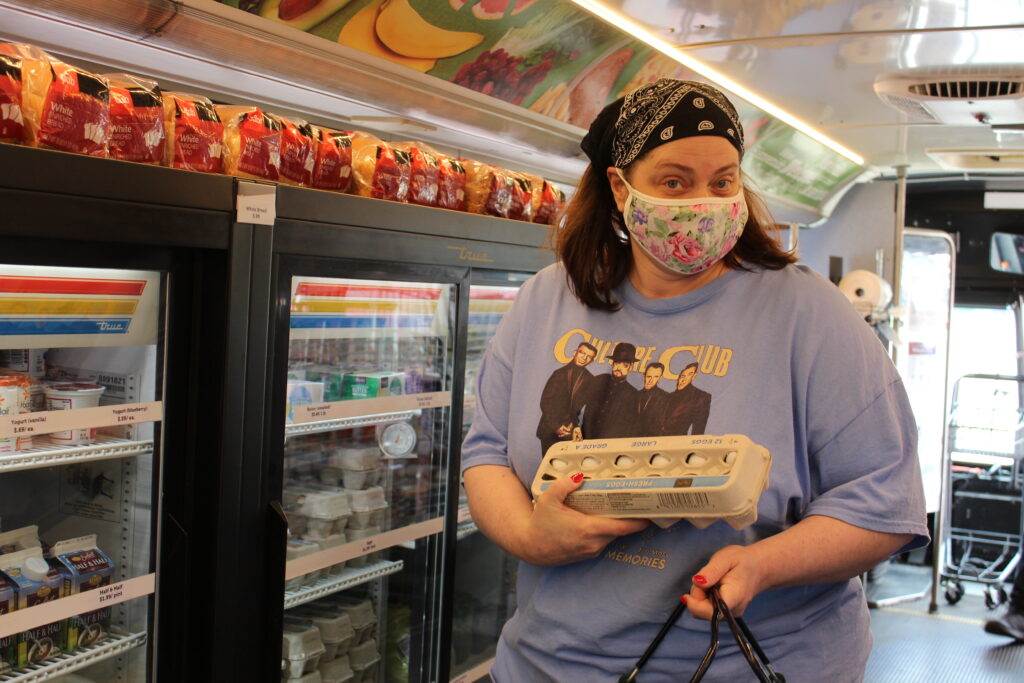 This grocery store on a bus is The Food Group's newest program. Twin Cities Mobile Market was created to increase access to healthy, affordable foods. It began operations in December 2014 within the Wilder Foundation, filling the gap between a fully operating grocery store and a food shelf. Making weekly stops at 20-plus host locations throughout St. Paul and Minneapolis, the Twin Cities Mobile Market brought fresh, healthy food options right to the doorstep of its customers.
Twin Cities Mobile Market's COVID Response
In March 2020, Twin Cities Mobile Market found its new home at The Food Group. It was a natural fit, complementing our long-standing, low-cost grocery program Fare for All. Shortly after transitioning to The Food Group, the COVID pandemic was declared and the Twin Cities Mobile Market's normal operation was paused to ensure safety for its staff, volunteers, and customers.
In response to the growing need for emergency food as the pandemic took hold, The Food Group pivoted Twin Cities Mobile Market operations to offer free boxes of fresh produce and shelf-stable items to Twin Cities Mobile Market site partners. These boxes, delivered monthly, were made possible by an outpouring of generosity from donors in the community and by ongoing grant support.
"With the free food boxes, our goal was not only to deliver food, but also consistency and commitment. That throughout the pandemic, even though we couldn't run the bus, we would still show up for the sites in whatever way we were able," says Snow Aukema, Sourcing Manager at The Food Group.

"At the onset of COVID, some non-perishable items like pasta and sauce that we've never had to worry about were getting depleted from warehouses across the country. Seeing that trend, we made sure to keep enough of those items on hand for these boxes. We also adjusted the contents [of each box] based on customer feedback, because above all we care what food we deliver to folks."
Over the course of the past year, these no-contact deliveries reached 24 partner sites, reliably bringing over 400,000 nutritious meals to 11,606 households in a pandemic-safe way.
Twin Cities Mobile Market now offers a variety of affordable food options
The Twin Cities Mobile Market is ready to re-launch with COVID-19 precautionary measures in place. A vast array of food will be available- including fresh produce, dairy products, frozen meat and fish, along with pantry staples and locally sourced items. If a customer is uncomfortable or unable to shop on the bus, the option of a personal shopping experience will also be available by request. For efficiency, credit or EBT payments are preferred, cash accepted.
For those who face challenges getting to the grocery store, the Twin Cities Mobile Market is an invaluable resource. It allows people to get the fresh food they need in a convenient, safe, and affordable way. We're thrilled to get it up and running again!
The Food Group focuses on ensuring everyone has the nutritious and culturally connected foods they need. Affordable grocery is a key solution for creating equitable food access.
To learn more about Twin Cities Mobile Market, visit www.twincitiesmobilemarket.org and follow us on social media.
Facebook: @twincitiesmobilemarket
Instagram: @tcmobilemarket