As a case manager, Marie always had a fondness for White Bear Area Food Shelf. She used to refer a lot of people there because she trusted the quality of their service. As her interest in food systems grew, however, she knew she wanted to play a bigger role in the work they're doing. Now Marie is a Program Manager at their food shelf.
About White Bear Area Food Shelf
The White Bear Area Food Shelf has served as a critical resource for families experiencing food insecurity since 1977. As with many food shelves, the way they've done things has changed dramatically since the onset of COVID-19.
In the beginning months of the pandemic, White Bear Area Food Shelf pivoted to a drive through model before settling into their curbside pick-up, which they currently operate four days each week. Even though they typically serve 1,800 families each month, they knew there was still a gap in the need — neighbors who may be homebound or have barriers to transportation.
"Transportation isn't always reliable, and especially in White Bear Lake, there isn't a lot of public transportation from the Twin Cities or from different areas to the food shelves, so we really wanted to try to meet that need," says Marie. So, they brought life to a new type of model for this small, but mighty food shelf – a delivery program.
Household Delivery Program
Earlier this summer, White Bear Area Food Shelf launched their delivery program in partnership with Washington County and Newtrax, a nonprofit collaborative organization that provides daily transportation from home to work and back for over 600 adults in the Northeast Twin Cities metro.
Households that participate in this program receive a weekly twenty-five pound box of personal hygiene and food items that includes products such as meat/proteins, dairy, produce, dry goods, and culturally connected foods, like maseca, fufu flour, pickled jalapenos and sesame oil that come from The Food Group.
A neighbor expressed, "Deliveries make the stress of this [the pandemic] go away. I know I'm going to get groceries every Thursday, and I don't have to worry about getting a ride from a friend for worry about my car breaking down."
"We've been enjoying the locally grown options and different varieties of culturally connected food that we purchase from The Food Group." says Marie, "I always get excited telling people about The Food Group and how they are addressing food sovereignty in a lot of different ways."
Other items The Food Group supplies include tilapia, goat, frozen mangos, eggs, onions, avocados, celery, chipotle peppers, curry powder, sriracha, and hominy. "Because of our partnership with The Food Group, we've been able to offer a lot of cooking items. Goat meat, spices, and sriracha have been very popular."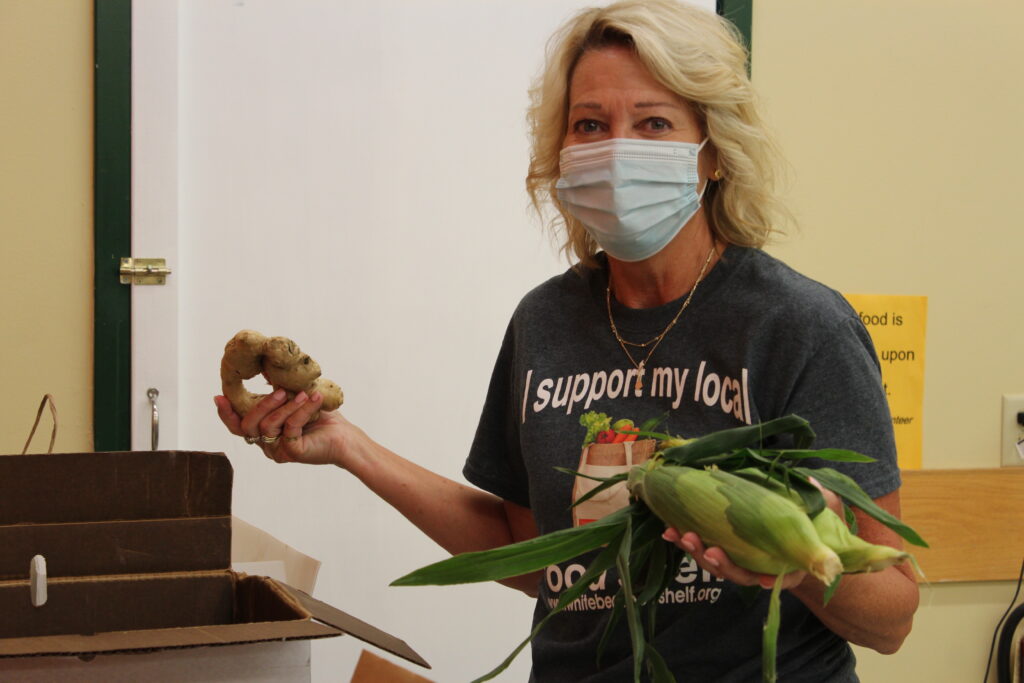 A Passion for Systemic Change
Marie brings a lot of passion and desire for systemic change in the ways that neighbors access food. "When I was growing up, I remember getting the 'day after' bagels and I never thought of it as a weird thing – it was an exciting thing for me, and this is the experience I want to create for everyone who visits White Bear Area Food Shelf." Marie adds, "Food is a basic human right and no one should be hungry. People should be able to access food in a welcoming and caring environment, without feeling like they've lost their dignity or respect."
This passion is contagious at White Bear Area Food Shelf. "I've learned how to respect food since I started volunteering here and that's nothing I ever really thought about," says Lisa, a long-time volunteer.
Diane, another volunteer, adds "I really wanted to give back within my own community, and nutritious food is such a strong passion of mine. You combine that with their philosophy here and they aligned."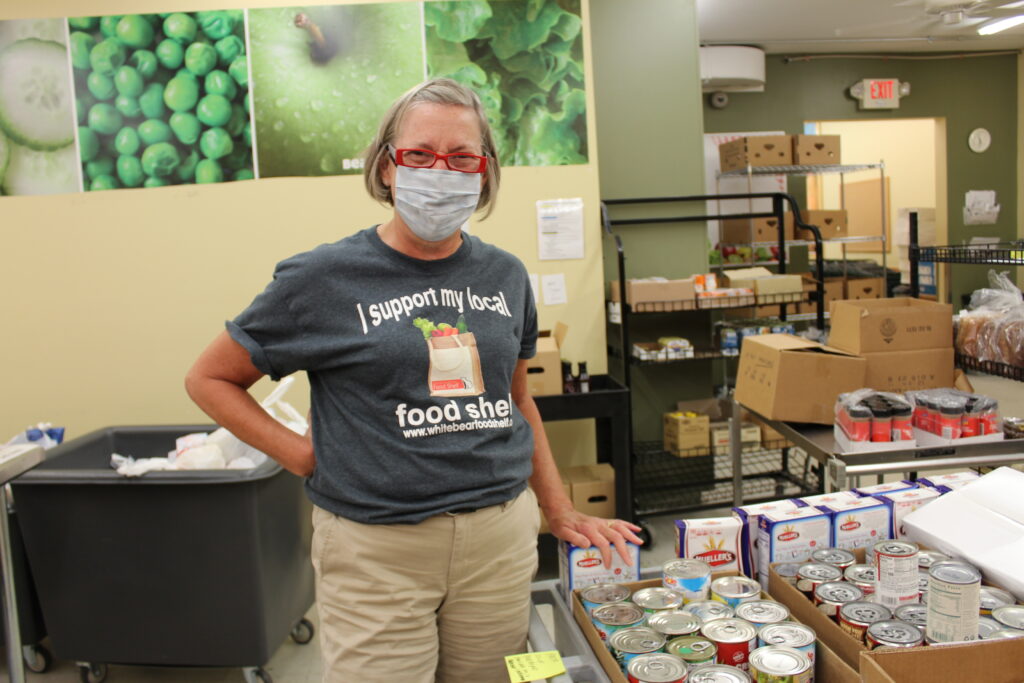 To learn more about and sign up for deliveries, visit: https://washcophe.formstack.com/forms/emergency_food_request
To learn more about White Bear Area Food Shelf, visit: https://whitebearfoodshelf.org/

There are a number of ways to support White Bear Area Food Shelf including: